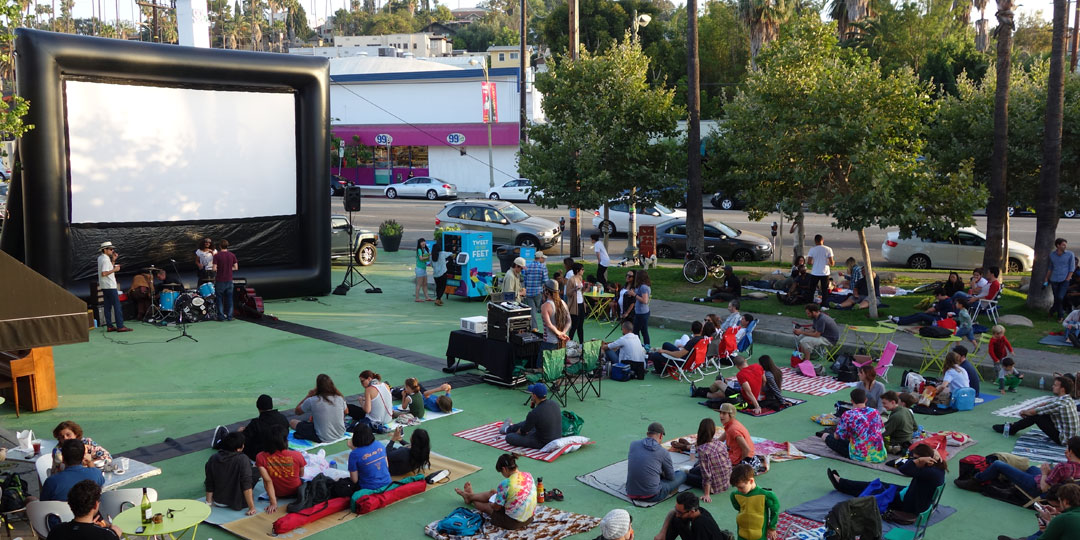 The Most Unique Outdoor Movie Night in Los Angeles
After three successful seasons, LA's free walk-in movie theater returns to Sunset Triangle Plaza for a fourth season in 2015.
When people think about Silver Lake, a few details come to mind. The ever-present art scene, the artisan coffee shops, creative dining experiences and, of course, the Silver Lake Picture Show. Every other Thursday throughout the summer, as the sun slowly sets over Sunset Boulevard, people stuck in rush hour traffic gaze in wonderment at the Sunset Triangle Plaza. They roll by as we inflate the 25 foot screen. They listen in passing to the bands serenading the excited crowd; a crowd equipped with elaborate picnics and folding chairs. They see the four friends hoisting their couch into the Triangle Plaza for the most comfortable seat in the house. And they notice that there is no ticket booth.
The Silver Lake Picture Show is a free outdoor arts and cinema experience that screens classic and popular feature films and introduces them with short films by local filmmakers and live performances from local bands. We cater our movie selection to appeal to Silver Lake's diverse community. Being a free event, we don't worry about making a profit. And so we select our movies for the merit of their filmmaking and not for their ability to sell tickets. These features are what make us the most unique outdoor movie experiences in Los Angeles.
We are made possible with the support of Mayor Garcetti, Los Angeles City Councilman Mitch O'Farrell, Starlite Cinemas, Silver Lake Improvement Association, the Silver Lake Neighborhood Council and many local business sponsors. Now in our fourth season, the Picture Show is something people look forward to attending every year because we break the mold of outdoor summer movie theaters by fully embracing the local community, arts and businesses that are the heart of Silver Lake.
We're excited about our upcoming season! See you at The Picture Show!

Our theme this year is:
Journeys
And here's our 2015 season lineup:
6/25 Pee Wee's Big Adventure
7/9 Amelie
7/23 Spaceballs
8/6 The Matrix
8/20 Motorcycle Diaries
9/3 Homeward Bound
9/17 Fear And Loathing In Las Vegas